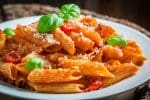 How to make a mouth watering Bolognese Sauce.
In this video, our very own Chef D shows you how to make his take on an Italian Classic. Bolognese Sauce is a comfort food loved by people around the world and you may be surprised at just how easy it is to make. Like most great food the secret is starting with great ingredients like the Nutrafarms grass-fed beef and cage free pork that are at the heart of this recipe.
​

Ingredients:
1 lbs of Nutrafarms ground beef
1 lbs of Nutrafarms ground pork
2 onions finely diced
4 garlic cloves minced
2 cans pureed tomatoes
Salt and pepper to taste
Instructions:
In large stock pot over med-high heat, add ground beef, pork, onions and garlic.
Sauté until ground meat mixture is cooked.
Add pureed tomatoes.
Bring mixture to gentle boil and simmer for 5 to 6 hours.
Season with salt and pepper.
Enjoy!
---
Whether you call it bolognese sauce, meat sauce, pasta sauce or spaghetti sauce, there is any extremly high chance this dish a staple in your household. This dish is easy to make, almost universally loved and a sauce that can be used as a base in a ton of other dishes.
Try out Chef D's recipe for Bolognese next time you need a little bit of comfort food that is a guaranteed crowd pleaser.
---
Eating With Nutrafarms
The only way to know if eating with Nutrafarms is right for you and your family is to speak with one of our farm representatives. They will walk you through the ordering process and show you how to customize your order to your family's tastes and budget.